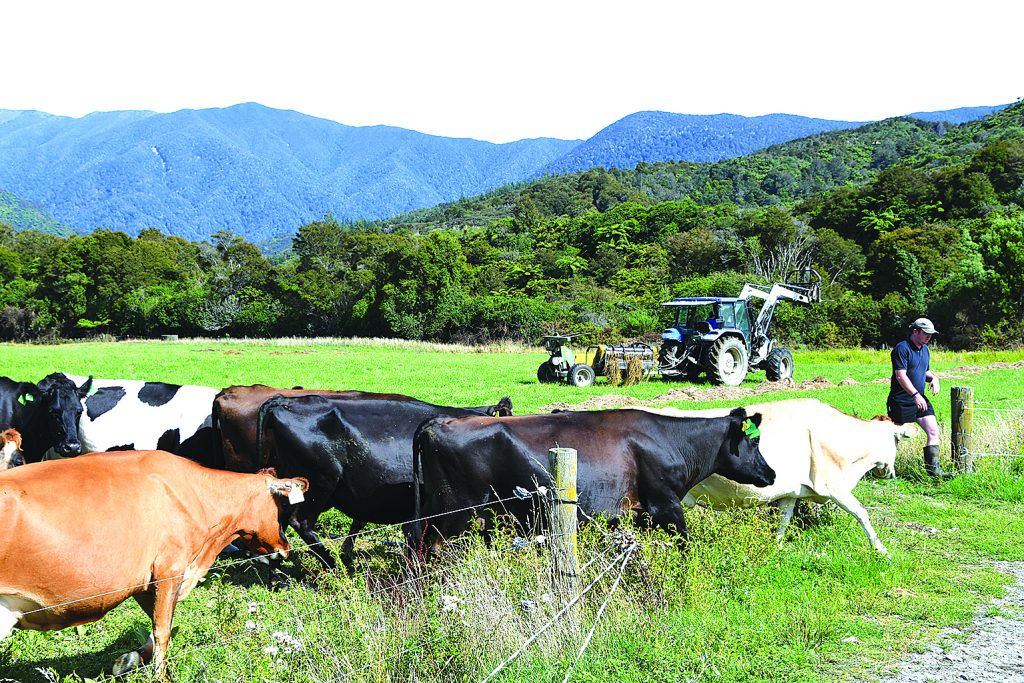 Golden Bay's farmers are doing their bit to feed the country and pump cash into the national coffers by working through the lockdown.
Although it's not exactly business as usual, the supply chain is working well, according to Federated Farmers Golden Bay president Wayne Langford. The Kotinga dairy farmer says he is used to working in relative isolation and sees the positive side of remaining in his family bubble.
"It's a lot quieter; I don't have to rush away to meetings."
Like most of his fellow farmers during the lockdown, Wayne is only carrying out essential work in order to minimise the need for callouts from service companies such as hydraulic specialists and tyre-fitters. "It reduces the chance of a mechanical breakdown. Suppliers are there for emergencies, but everyone is being extra cautious."
While Wayne's farm is essentially a family-run affair and can easily comply with the Government's rules, he says that larger units are finding it more of a challenge. "Bigger farms in the Bay are struggling to keep in their bubbles; if you have five or six staff it's not easy."
Fonterra tankers are still collecting milk every day, and processing plants around the country are running smoothly, but it is a different story in the meat industry, says Wayne. "Fonterra factories run on lean staffing so they are not so much of a problem, but meat processing works are a lot more labour intensive."
Reduced capacity at meat works, he explains, means that some farmers may be carrying more stock than they would wish into the winter months. "There are a few concerns around [not] sending away surplus animals." But he points out that the crippling drought farmers suffered during the summer has one upside. "Because we had the dry season, most have already gone early."
Although the farming industry is coping well with the current crisis, the economic outlook may not be quite so rosy. In a recent press release, the national president of Federated Farmers, Katie Milne, warned of softening prices resulting from the global economic slowdown.
"Meat that was getting $5-something a kilo is now bringing in $3, if we can get it off the farm. The milk returns (per kg of milk solids) had $7 in front of it this year but there are predictions next year it will be $5."
Farmers have little influence on primary product prices, so Wayne is focusing on the farming calendar and sticking to the immediate tasks in hand. "Farming is all about timing; even a week can make a big difference. Just now, the maize needs to be harvested and paddocks need to be seeded and fertilised."
As for his three young sons, Wayne says they are also carrying out important duties with the future in mind. "The boys are bringing firewood into the shed and sowing daffodils along the driveway."
Photo and Article: Jo Richards.